Are You Eligible?
If you have a hardship caused by COVID 19 and need assistance to pay your mortgage you MAY be eligible for assistance.
Help, I don't qualify.
Having Trouble Paying Your Mortgage?
We're Here to Help.
The CARES Mortgage Assistance 2021 works to help homeowners get the assistance they need to avoid foreclosure. The CARES Mortgage Assistance 2021 is administered by "Lorain County Community Action Agency" (LCCAA) and funded by the Ohio Development Services Agency.
---
Am I Eligible?
You may qualify if you can answer yes to the following questions.
Is your household income meets the program's limits.
Is at least one member of the household a US Citizen or legal resident?
Is the household located in Lorain County Ohio?
---
How Much Assistance is Available?
Every household's situation is different, so the amount of assistance you may receive will be specific to your needs and sustainability.
Funding is awarded on a first come - first completed basis. Please have all your information and documents ready to ensure faster processing of your application.
Make sure the amount you request will be accepted by your landlord. If they challenge the amount, it can delay your application's processing.
---
How Can LCCAA Help Me?
Depending on your circumstances, The CARES Mortgage Assistance 2021 may:
Make up to three months of payments.
---
How Do I Apply?
After you answer some eligibility questions, you must complete an application for assistance and gather some documentation.
---
What Happens Next?
If you qualify for assistance, LCCAA will pay your lender/servicer using your payment coupon.
---
What Else Do I Need to Know?
LCCAA works with nonprofit groups and does not charge a fee for its services. Beware of calls and other solicitations from companies offering to assist you in return for payment.
---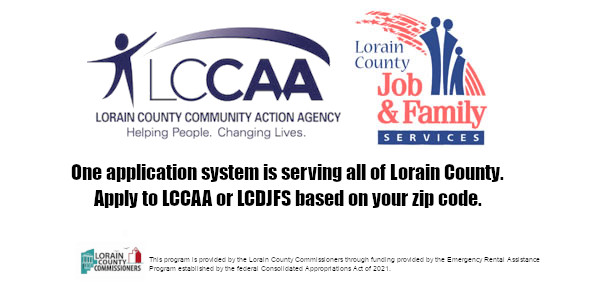 ---
---
FAX: (440) 815-8181

MAILING ADDRESS:
ATTN: LCCAA
936 Broadway Avenue
Lorain, OH 44052
LCCAA provides assistance on a fair and equal basis regardless of race, color, religion, sex, familial status, national origin, military status, disability or ancestry. Please visit https://lccaa.net for more information.